Giveaway and Book Review of Dead Hot
S
ponsored by Innovative Book Tours
Welcome to Books, Books, and More Books.

I am pleased to share my review of this book with you.

Thank you for visiting and please come again.
Sharla Gomez's dream encounter with the man she's lusted over for months turned into rain-soaked nightmare. Her hopes of love and passion have gone to the dogs. Being a shifter is hell, especially when you're a Pug/Chihuahua mix, or as some call the breed, a Chug. Even dogs don't want to be told they're so ugly they're cute?

Dorsey Smith wants to get to know the exotic number-cruncher in charge of the strip club's books. Just his luck she disappeared before he could ask her out for coffee. Instead of taking home the woman he lusts for, he takes home the small, drenched dog shivering in the rain. When he discovers the animal missing the next morning and he senses magic in the air. Has his safe haven been discovered and will his secrets be revealed?

Can two people with deep secrets discover the truth about each other and still find love. Or will the secrets and the evil lurking drive them apart?
Award winning author, Lizzie T. Leaf started life in Kansas, continued her growing in North Carolina, and currently shivers through the winters in Colorado.
She has numerous e-books in varying lengths and her first print book,
Struck by Lightning
, won dual 2007 Beacon awards, in addition to being a finalist in two other contests.
In addition, Making Christmas, a Christmas Historical novella set during the Civil War won Love Romances Café Best Historical for 2011 and is a finalist in the Aspen Gold for Best Novella.
Beyond Magic
, the first book in the Magical Love series won the 2012 Award of Excellence Best Paranormal/Fantasy/Sy-Fi, and is a finalist for Best Paranormal in the Aspen Gold.
Winners are announced in mid to late October.
Since discovering the fun of writing paranormal, she plays with creating vampires, faeries and other immortals. Her current focus is the DEAD series.
Musa Publishing has re-released the first four novellas in the series and
DEAD Hot
, a new novella, is scheduled to release in October.
Emerging Magic
, the second novel in the Magical Love series will also release in late October or early November with Passion in Print Press.
When not creating mischief for paranormal beings, she can be found exploring the other genres she wants to write.
She also serves as the 2012 President for the Heart of Denver Romance Writers.
Lizzie loves to read, spend time with her family and travel with her best friend husband during her free time, on which most of friends ask…"what free time?"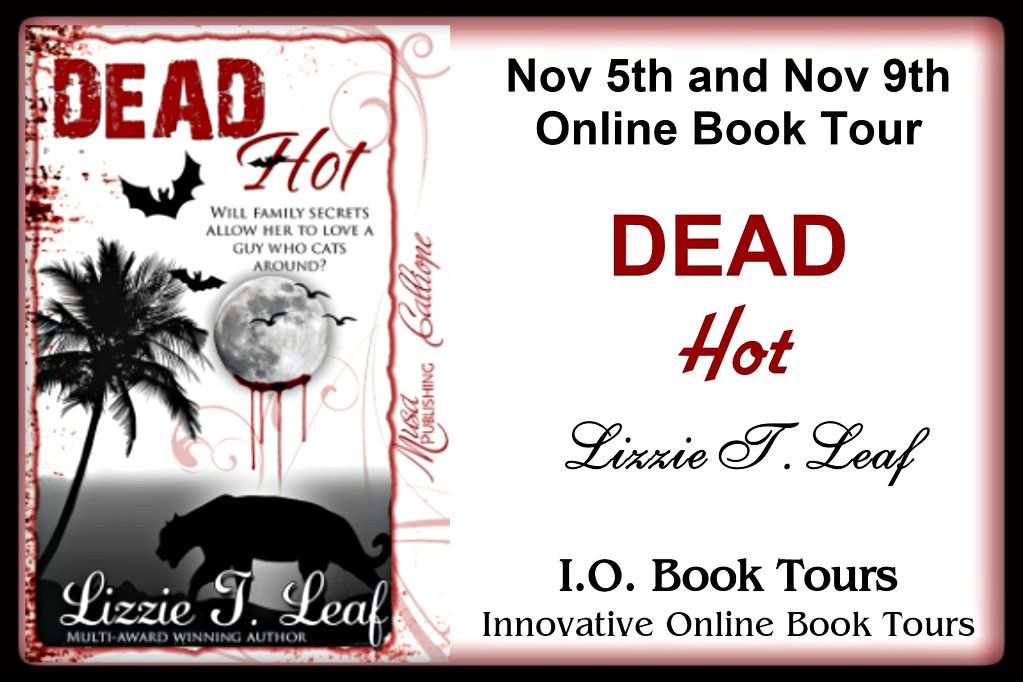 a Rafflecopter giveaway
I love unusual shifter combinations (I once read a book about a bunny shifter who had a prehistoric gene and her bunny was bigger than her grizzly husband with 2 foot long teeth).

In this book the shifter is a Chug (Chihuahua and Pug mix).

Talk about a funny looking dog… have you ever seen a chug, they are so ugly they are cute.

Anyway this Chug shifter has an unusual ethnic heritage as a human also.

And her life love is a Panther shifter/vampire mix.

Oh my.

That pretty much covers most of the genre of supernaturals in one couple.
The story is a love story with a side mystery/suspense thrown in for fun.

The story is charming, amusing, and part of a great series yet can be read as a standalone.

However it is much more fun to read all the books and know things like BJ, vampire queen, used to faint at the sight of blood which made eating as a vampire difficult.

Or that Lovey is the first vampire to have children (yes actual children) and they are super gifted.
This book and series is a must read.

I give this book a 4 out of 5 clouds.
This product or book may have been distributed for review; this in no way affects my opinions or reviews.