Giveaway and Book Review of Finding Claire Fletcher
S
ponsored

by Innovative Online Book Tours
Welcome to Books, Books, and More Books.

I am pleased to share my review of this book with you.

Thank you for visiting and please come again.
Down on his luck, Detective Connor Parks takes solace in the arms of a woman he meets at a local bar, but in the
morning, Claire Fletcher is gone, leaving behind clues to a decade-old mystery—her own abduction. Perplexed and
driven by an unsettling need to see Claire again, Connor must

solve the mystery of her disappearance and find her once and for all.
Lisa Regan is a suspense novelist.

She has a Bachelor's Degree in English and Master of Education Degree from Bloomsburg University.

She lives in Philadelphia with her husband and daughter.
Website:

www.lisaregan.com
Facebook:

http://www.facebook.com/pages/Lisa-Regan/189735444395923
a Rafflecopter giveaway
Chapter 1 ~ Finding Claire Fletcher ~Lisa Regan
I still saw her sometimes-the girl I used to be. She lived behind a locked door in my mind. The door that protected the last secret part of me. The last bastion I had that no one else could infiltrate or overcome. It was locked so securely that no one but me could force or tease it open.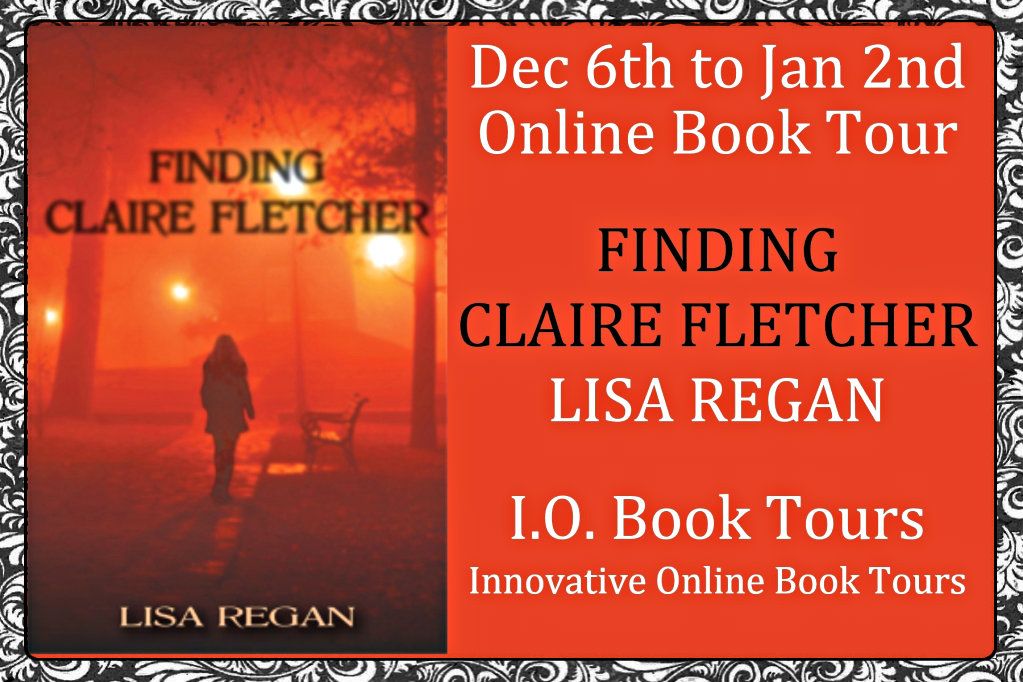 Behind the door, the girl stood on the street corner waiting to cross, shielding her eyes from the sun with one slender hand. She was in the tenth grade and she was on her way to school. She had a backpack slung over her left shoulder. She wore jeans and a yellow cotton shirt.
Behind the door in my mind, I liked leaving the girl suspended on the street corner for as long as I could. Sometimes I just watched her stand there, shielding her eyes, vaguely aware of the cars whizzing by in front of her. She had a slight smile on her face. I wanted her to stay right there on the street corner forever, frozen in her peaceful beauty and teenaged innocence.
But she couldn't stay there forever, not even behind the secret, locked door in my mind.
Eventually she crossed the street, walked the 30 feet or so . . . In my mind, however, she didn't stop when she saw the man crouched next to his car, neck craning to peer beneath it, the backseat door hanging open next to him. In my mind she kept walking.
She never knelt down beside him to look beneath the car as he did, attempting to coax an imaginary but frightened kitten from beneath it. In my mind, the man didn't smash her head off the door jamb and stuff her stunned, slack body unceremoniously into the backseat. These things never happened to the girl I used to be behind the locked, secret door in my mind.
I envisioned two alternatives for that girl. One was that she stood on the corner, shielding her eyes with one hand and when she stepped off the curb into the street, certain that the way was clear, she was crushed by an oncoming truck and killed instantly. There she lay in the street, limbs twisted and bent at odd angles, her thick red blood congealing on the pale asphalt. Her eyes were fixed upward, blank, unknowing. I liked this scenario because it did not involve the man who unmade her and took everything pure away from her.
The second alternative was that she did not cross the street. She decided to turn left instead of crossing and she avoided the man altogether. And so she went on with her life. She knew nothing of the abject horror she avoided. She was still innocent in that way.
This girl from scenario two lived a parallel life. I imagined that she was out there, still living my life. She went to her proms and high school graduation. She had a boyfriend and went off to college. The very second I thought about her, she was out there living the life I was supposed to live.
Maybe she was making plans to get married or have a child with someone. I liked to think of her that way, as if she still existed in some other dimension. I liked to think that someday I'd run into her and see in her face that in spite of what I've been through the girl I used to be is all innocence and light.
That when she smiles it's beautiful and not broken.
Excellently written, hard subject.

This is a story about a girl who is abducted and lives with her abductor for ten years because of her conditioning and fear.

It is also a story of hope because she survives, but it is a hard subject to read about.

Because of my background in social work I have, unfortunately, heard stories like this before… that doesn't make it any easier to read about it.
This is one of those books that changes how you look at news stories.

Like other books I have read it impacted me deeply, but I would strongly recommend that it be read by those with a strong stomach and definitely by those who understand that the contents is somewhat graphic at times and very disturbing..
I give this book 4.5 out of 5 clouds.

While the subject matter is difficult, I recommend reading the book.
This product or book may have been distributed for review; this in no way affects my opinions or reviews.